GAFilk 2023 is a GO!
We are pleased to report that all of our scheduled guests for this upcoming year have accepted our invitation to appear at Gafilk 2023, which we are planning to hold on our usual weekend, January 6-8, 2023, at the Sonesta Atlanta Airport North (former known as Crown Plaza Atlanta Airport). If you pre-registered for the 2022 convention, your membership will automatically be rolled over for 2023. If you have concerns regarding this, please contact us.
.
Guest of Honor
Heather Dale (with Ben Deschamps)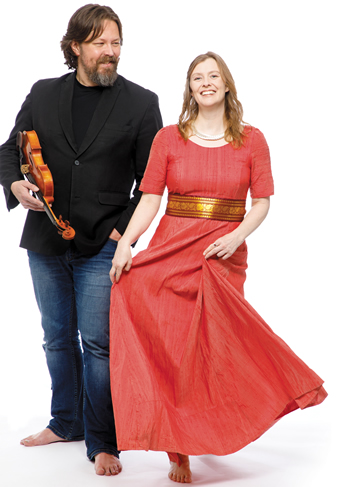 A Canadian recording artist with Celtic roots, Heather Dale deftly transcends the limits of both Celtic balladeers and folk singer-songwriters. She finds contemporary themes within old material, and fuses folk traditions with blues, jazz, and world music influences. Often compared to Loreena McKennitt and Sarah McLachlan, Dale's unique vocals are paired with more than a dozen folk instruments in live performances with multi-instrumentalist Ben Deschamps and the Amphis Chamber Strings.
Dale has released 15 studio albums, five live albums, three songbooks, and a full-length musical theatre work based on the King Arthur legend titled "Queens of Avalon." An evocative and often surprising wordsmith, Dale's poetry has been featured in seven novels written by New York Times bestselling authors S.M. Stirling and E.K. Johnston. Her hit song, "Mordred's Lullaby" has been viewed more than 20 million times on YouTube.
Dale is equally comfortable as a businesswoman: she is the head of her own record label Amphis Music, an arts entrepreneur, an experienced audio engineer, and a popular public speaker about independent music in the 21st century. You can watch her TEDx Talk here.
Toastmaster
Erin Bellavia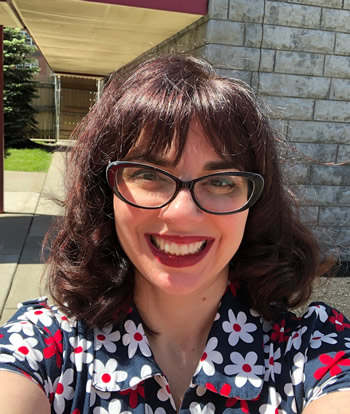 Erin Bellavia's musical career began when she was cast as an orphan in a community production of Annie at age 12. She thought it ended a year later when she was cut from the middle school show choir. For a long time, her only musical performances were in her bedroom at home, where she pretended to make music videos.
Many, many years later, she met this guy named Rand, who brought her to her first filk convention in 2005. At first she was content to listen, but was gradually convinced by some of her new friends to sing--just a little--in a filk circle. She and Rand first performed together at the 2010 OVFF Pegasus Concert. They began doing some writing together in preparation for their first concert at FilKONtario in 2013. Erin and Rand have since performed concerts at GAFilk, Marcon, Windycon, Balticon, OVFF, Confluence, and Archon.
Erin and Rand began performing as Via Bella in 2017, and their first album, The Way of Beauty, was released in April 2018.
Erin is an educator, writer, editor, calligrapher, and cosplayer. She's also gotten back into community theater, after many years away from the theater, with roles in Annie, Me and My Girl, Laughter on the 23rd Floor, Crazy for You, and the Inclusive Theater Company's Festival of Shorts. For more information about Via Bella, see viabella.hearnow.com.
Erin Bellavia online:
Interfilk Guest
Kim Fortuner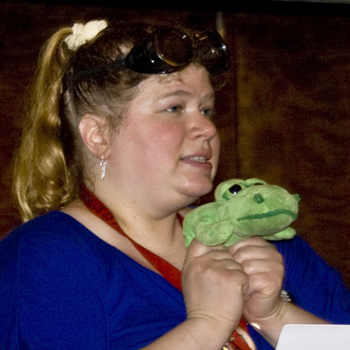 Kim is a serial balladier and lapsed podcaster, who has singlehandedly answered the question, "Is there Filk in Scranton?". (The answer is, "Sometimes.") She is a multi-instrumentalist, vocalist, and songwriter. As Comic Book Goddess Productions, she has provided music and voices for several podcasts, including her own 2009 Parsec Finalist comedy podcast, Geek Pantheon and Your Moment of Kim. Rumors that she has been associated with a shadowy organization known as the Secret Society for Delayed World Conquest are clearly an obvious lie, as such an organization could not possibly exist.
Super Secret Guest
We Ain't Tellin'! (until December 1st, 2021)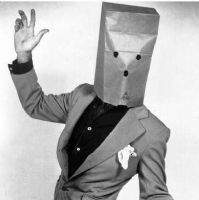 We can't tell you until December, but we promise you, it's gonna be AWESOME.
ConCom's Choice
To Be Announced
Information coming December-ish!