Welcome to GAFilk 2020!
Guest of Honor
Talis Kimberley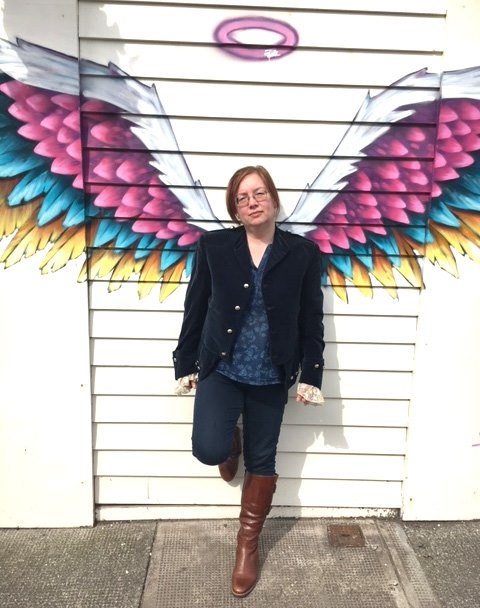 Talis is an English songwriter with a passion for words. Her songs tell tales of history and literature, knitting and baking, where we have been, and where we are going. Her diverse, quirky, compelling and occasionally downright silly songs chart Talis's engagement with climate change and resource depletion, telling stories from both the global stage and the kitchen garden.
In recent years Talis has been moved to write songs about the land, sheep and farming (her family own some sheep in a no-kill flock), handling death, and interfaith issues (she spent this Midsummer singing in the church at Avebury – at the vicar's invitation). Currently her music is an offering of kindness and peace in a world made cruel and uncertain. Her patchwork pagan faith with a druidic core informs all she writes.
She's working on follow-ups to her mini-albums 'Cloth of Gold - Songs of Sheep and Farming' and 'Eleanor Roosevelt's Knitting – Songs of Spinning and Yarncraft'. Besides planned history and geeky song collections, Talis hopes to gather her 'Songs of Solace and Radical Compassion', so badly needed in this broken world.
Talis is an energetic performer who delights in taking her audience places and bringing them back, changed. A storyteller to her bones, Talis's songs will challenge you, entertain you, and take root in your heart.
Find Talis Online:
Toastmaster
Lauren Cox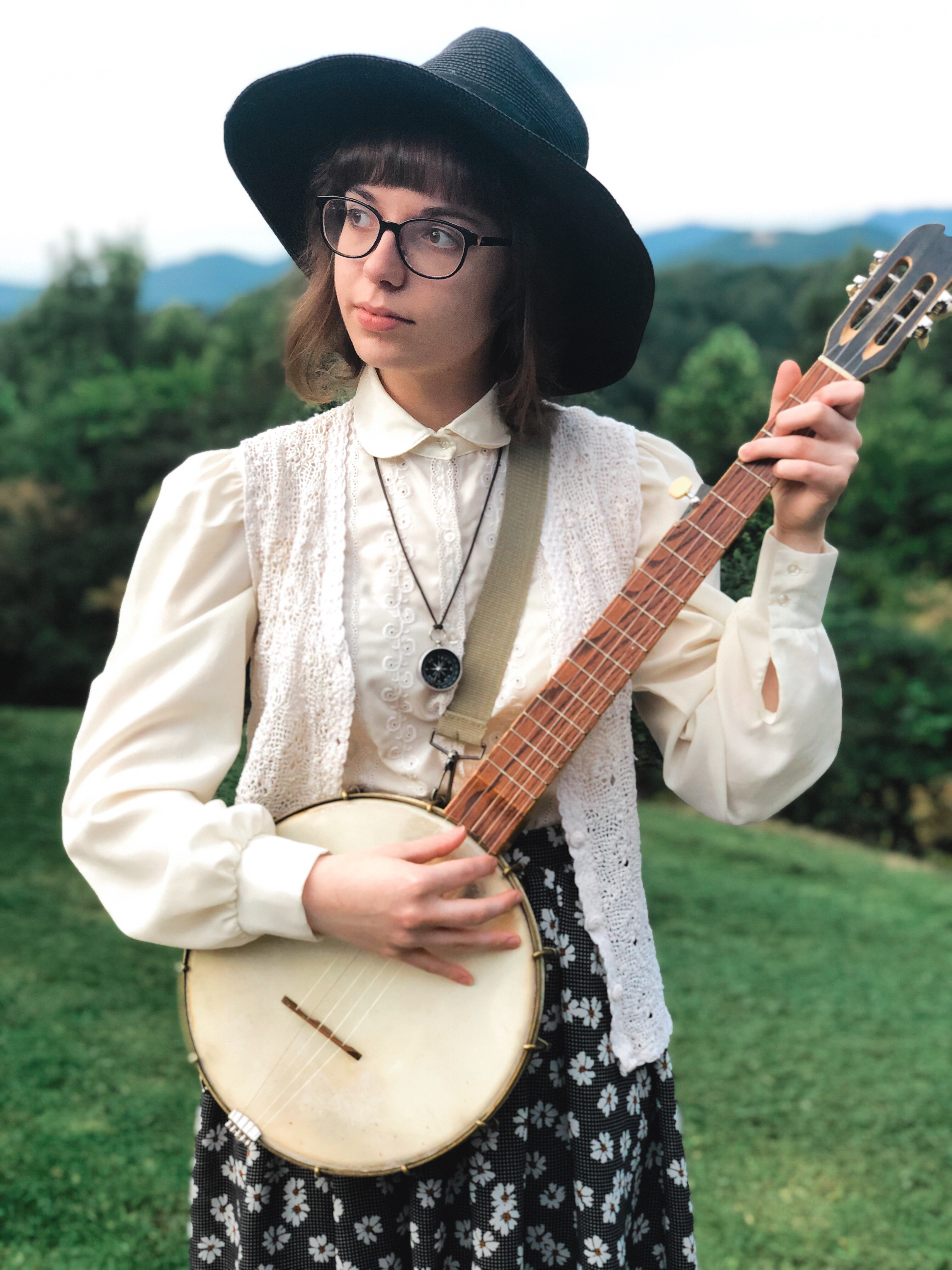 Lauren Cox is an almost-twenty-four-year-old multi-instrumentalist, a singer, a writer of songs, and an acolyte of the folk tradition who hails from the misty mountains of East Tennessee. Though no one else in her family sings or plays an instrument, music was always an integral part of her life, and she's grateful every day for the wide range of genres she grew up listening to because of her parents. She took piano lessons as a child but exasperated her teachers and later quit because she preferred playing by ear to reading music. From sixth to eighth grade, she was an alto in the Nashville Children's Choir, and by the time high school rolled around, she heard what a marimba sounded like and dedicated four years to playing it and other melodic percussion instruments in marching band. Back when she went to church, she was also the drummer in the youth band. The most important music-related thing that ever happened to her, however, was meeting and befriending Cat Faber while in college. Through their enduring friendship and because of the band they were in, she slowly picked up more and more stringed instruments, and once Cat opened her eyes to the wondrous world of filk, she never looked back. Her favorite definition of filk is whatever a filker plays or sings in a filk circle, and, speaking of circles, she couldn't be more delighted and appreciative that her first time as Toastmaster is at GAFilk, the very first convention she ever attended in 2016 and what she considers to be her home con.
Lauren plays quite a few instruments (ukulele, banjo, guitar, mandolin, autoharp, piano, and almost anything percussive) with varying degrees of proficiency, and owns even more instruments that she will teach herself to play at some point. Music is just one of her creative outlets—she is also, among other things, an old school film photographer, a poet, and an artist. She graduated from college in 2018 with a BA in photography and a minor in creative writing. She lives with her partner Emma, a lover of ecology and video games, and three cats (Ansel, Henri, and Alli) near the top of a mountain, where the sunrise comes up over the lush, rolling hills every single morning. Some things she loves are Stargate SG-1, Overwatch, Steven Universe, The Adventure Zone: Amnesty, short stories, ginger ale, chicken alfredo, and talking politics. But her most favorite thing in the world is the sharing and discovery of new music among friends.
Interfilk Guest
Susan Moerdyk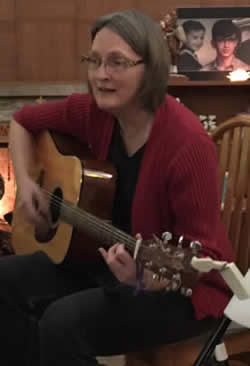 Music has played a part in Susan Moerdyk's life from the very beginning. Literally, some of her earliest memories are of being sung to sleep at night by her dad, who left a legacy of music to his children that is an integral part of the family dynamic to this day. Singing with her dad at church was the highlight of her week as a kid. Growing up, she sang in church choir and played clarinet. She was inspired to learn to play guitar because both her eldest brother and sister played. This creative fire was further fueled by the musicians at summer camp. She finally learned to play enough chords to be able to lead the campfire sing-a-longs for elementary campers, and later took her first lessons in college.
The very first filk circle that Susan sat in was Conamazoo 1992, where she experienced the magic of being encouraged to join in by none other than Decadent Dave Clement. Here the reader may insert a montage of late night sings at conventions spanning six years, interspersed with house sings where Susan soaked up the tunes, singing along while cross stitching or playing shaker egg. A new guitar found its way home with her in 1998, and she took the leap to join circles as a guitar player. In the spring of 1999, Dave Alway opened his home for house sings -- at first, about five people in his living room with barely enough songs to get through an afternoon -- and Glimmerglass house sings were born. Over the next eight years, Susan became the master facilitator for quarterly house sings that grew to have 30-35 attendees from across the Midwest. These gatherings were dedicated to the growth and development of beginner and intermediate level musicians, many of whom regularly grace the main stages of conventions today. During these years ConFusion, in southeast Michigan, also benefitted from Susan's organizational talents, as she served as Filk Mistress (for four years in the early 2000s, and again in 2014). Her first solo concert was at Marcon 2008.
Susan remains deeply committed to filk gardens like Glimmerglass. In addition, she is currently a member of People's Singers at a UU congregation in Kalamazoo MI, attends Great Lake Acoustic Music Association slow jams, and is excited to be returning to fandom after a long journey in the pursuit of a graduate degree. She is the proud mom of Luke, Renee, and Joshua. She enjoys tribal style belly dance, and continues to cross stitch, experiment with other hand crafts and some baking/cooking. Susan's newest endeavor is starting an entertainment business with her partner of many years. She is honored to be the Interfilk guest and looks forward to contributing to the GAFilk experience.
Super Secret Guest
Phil and Kaja Foglio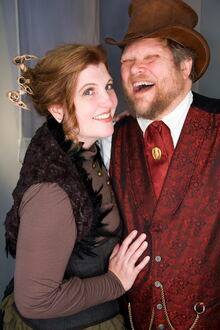 And GAFilk's Super-Secret Guests for 2020 are…Da Da Da DA Da Da Da DAAAAAAA…Phil and Kaja Foglio! You know the work of these talented artists and writers. It's everywhere. You've seen it in Bob Asprin's MythAdventures series, many comics, and cards for games like Magic: The Gathering and Munchkin. In 2009 Phil won the Hugo Award for Best Professional Artist, and the Foglio's Girl Genius Gaslamp Fantasy comic series, chronicling the life and times of Agatha Heterodyne, garnered three Hugos for Best Graphic Story. They are charming, witty, and delightful people who know how a top hat should be worn. "Adventure, Romance, MAD SCIENCE!"
ConCom's Choice
Wreck The System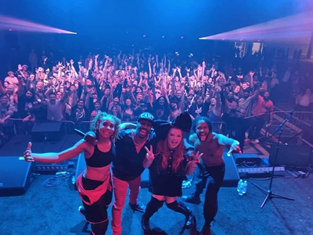 Wreck The System is a group that consists of four members: Lady J, Osiris Green, Cam3, and Twill Distilled. They are mainly a nerdcore hip-hop band, but they blend other genres like rock, EDM, dirty pop, dubstep, chiptunes, and pretty much anything else they want into their music. While Wreck The System is known for their energetic and amazing stage shows (which they've presented on the main stages at Dragon*Con, MAGFest, and elsewhere), their fans also identify with their overall message, which is to "BE WHO YOU ARE WITHOUT FEAR"!
They were the New Voices Guests at OVFF in 2018 and now they're back in Atlanta, one of their favorite cities, to share their new voices with you.