Banquet Entertainment
The Dinner Dance

This crew of con-goers really knows how to put on the ritz. We've made the banquet two hours long and increased the size of the dance floor so everyone has a chance to shake shake shake. The food is delicious and the cost is extremely reasonable at $35 per person (includes tax, tip, and soft drinks. Remember, the last table through the banquet line receives a complimentary bottle of champagne).
GAFilk's banquet events tend to sell out by Friday afternoon, so don't wait to get your tickets. The seating is limited, and once the tickets are gone ... they're gone. First come, first served. Be sure to check the appropriate boxes on your registration form, and include the banquet ticket cost with your registration payment if you're planning to join us for dinner.
Kids at the Banquet:
Under age 3 — FREE
3 to 12 — Half Price
13 and older — Full Price
Featured Entertainment
Play it with Moxie performs ballroom banquet music in the glorious tradition of the early 20th century. Here you'll find swing, Latin, ballads, vocal harmonies and a horn section, all delivered with class… with style… with Moxie.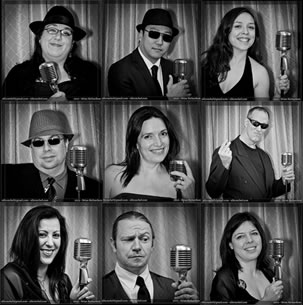 Mary Crowell: (keyboard, clarinets, vocals; band leader)
Jodi Krangle: (vocals, percussion)
David Rood: (trumpet, vocals)
Derek Lee: (alto and tenor sax, backup vocals)
Amy McNally: (fiddle, vocals)
Teresa Powell: Vocal/Bass/Trumpet
George Powell: (bass, tenor sax, flute, backup vocals)
Brian Richardson: (drums, band emcee)
Carly Gibson: (guitar, vocals)


This is a special treat, not to be missed! So bring your spats and heels, put on your glitz and glam, and prepare to dance the night away.