Welcome to GAFilk 2018!
Guest of Honor
Joey Shoji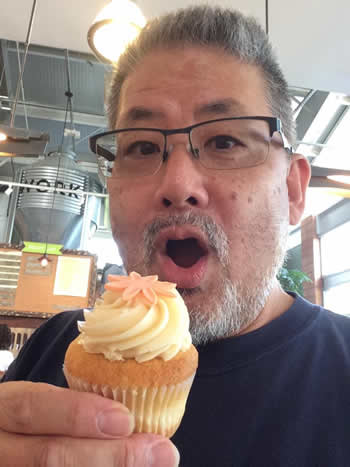 GAFilk is overjoyed at having Joey Shoji as our Guest of Honor. Joey is renown for his impeccable style (showing off the best-looking knees in fandom), epicurean taste (in whiskeys, wines, fine dining, and ICE CREAM!) and, most importantly for filkers, his gorgeous singing. He's a native of the west coast Bay Area, and so was perfectly positioned to participate in the thriving convention music scene. His pure tenor voice can be heard on so many songs, often in combination with Mary Ellen Wessels and Kathy Mar. His repertoire includes much of the work of Julia Ecklar, and his rendition of the Octavia Butler-inspired 'Blood Child' is an unparalleled classic.
Joey Shoji is also one of the most polite, charming and unassuming personalities in filk. He's a familiar face in the late-night filk circles, listening and encouraging others, backing people up on guitar, providing harmonies, and occasionally singing a song or two himself. His laughter is infectious, his smile lights up the joint, and he's a delightful dinner companion. Joey's been known to generously provide whiskey and wine tastings, educating the palates of friends and strangers alike. We are fortunate, indeed, to have Joey join us this year!
Toastmaster
Cameron Webb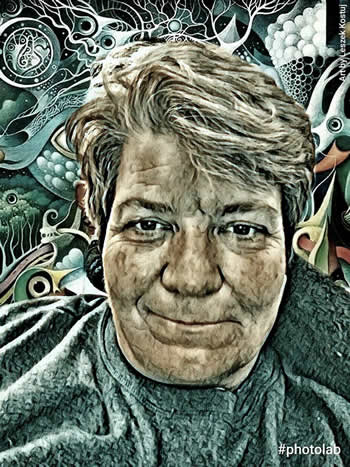 This year's toastmaster is a natural for the job. Cameron Webb has been a familiar face in Southern Filkdom for decades. You'll find him singing in the filk circles, usually surrounded but an intimate group of friends and loved ones, blending voices, providing support and morale. Cameron is the author of the 'Labyrinth' song that has become a mainstay in pagan circles. Its spiraling melody and lyrics pull the listener into a larger, deeper circle. He's also a talented and accomplished artist, as one can see from the self-portrait shown here.
Interfilk Guest
The Faithful Sidekicks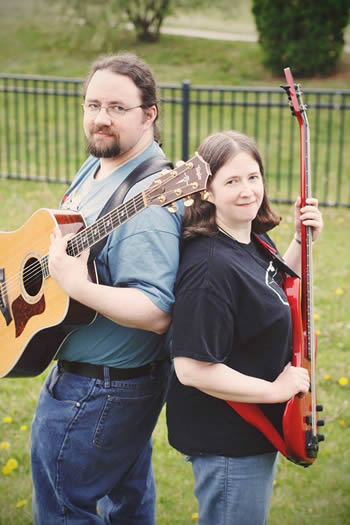 The Faithful Sidekicks are the acoustic, geek comedy, musical duo of Eric and Jen Distad.
Their story is a topsy turvy one - they spent more than six years in a maze of near misses, crossed paths, and common connections that nearly defies logic and yet... they never quite met. So it was inevitable that when they finally did meet, they were destined to make beautiful music together. Things really got interesting when they combined Jen's background in improv comedy with Eric's songwriting skills (He's one of the founding members of FAWM - February Album Writing Month).
The result is a mix of melodic original songs about all the fannish geeky things they love like Star Wars, Star Trek, Stargate and anything else with a star in it they can find (except maybe Star Search). Based in Andover MN, they have been making music together at coffee shops and SF Conventions as The Faithful Sidekicks since 2014.
When they are not singing songs written in SQL code, they are both avid readers and board game enthusiasts (particularly co-op games) and fans of classic movies and animation. They recently released their first geek/filk CD, entitled "*.* And Other Star Things".
Super Secret Guest
Catherynne M. Valente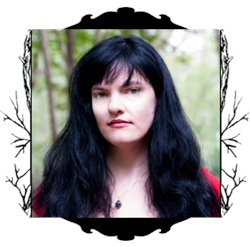 GAFilk is thrilled to announce the Super Secret Guest for 2018, author, poet, and literary critic, Catherynne M. Valente! This award-winning writer is probably the best known for her amazing YA fantasy Series about the girl who did amazing things. First she circumnavigated Fairyland in a ship of her own design. Then she ruled it for a little while, fell beneath it and led the revels there, soared over it and cut the moon in two, helped the boy who lost Fairyland, and most recently raced Fairyland all the way home. She's published fiction, non-fiction, poetry, short stories, novellas and novels. She's wonthe James Tiptree, Jr. Award, the World Fantasy Award, the Rhysling Award, the Andre Norton Award, the Hugo Award, the Locus Award for Best Young Adult Fiction, and the Theodore Sturgeon Memorial Award. She's inspired a generation of young readers, and we are so happy to spend time getting to know her better.
ConCom's Choice
Lauren Cox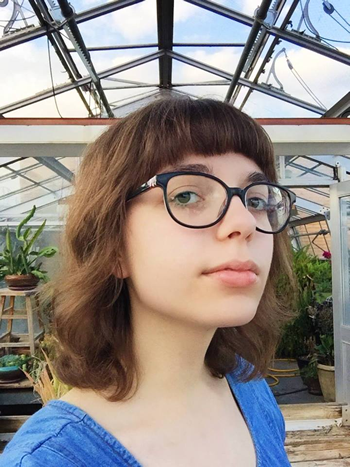 Lauren Cox is a college student from the mountains of Tennessee who stumbled into filk by befriending Cat Faber. She sings and writes songs, and since lugging around nine instruments at cons isn't feasible, she tries to stick to four: ukulele, mandolin, guitar, and banjo. Music is just one of her creative outlets—she also spends an inordinate amount of time developing film and making prints in the darkroom, writing poetry and short stories, painting, and drawing. In addition to being a full-time student, she juggles two jobs as a graphic designer and copy editor at her town's local newspaper and as the darkroom technician at her school. GAFilk was the first con she attended two years ago, so it holds a special place in her heart. This year, she convinced her mundane dad to come along with her, so be sure to show him just how weird and wonderful this community can be.
If you're looking for someone with which to play Pokémon Go, Lauren's your gal. She would love to talk to you about Steven Universe and Stargate SG-1 and also show you pictures of her fluffy cats, Ansel and Henri.