The GAFilk Quilt & InterFilk Auction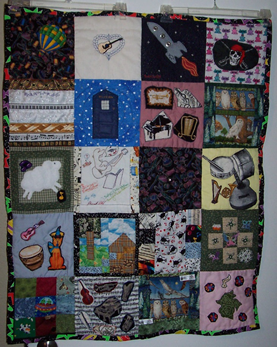 The GAFilk Quilt was conceived and birthed during Margaret Middleton's reign as GoH for GAFilk 2000. Some of the blocks were created ahead of time. Others were crafted on the spot from scraps and fusible webbing and stuff.
Quilt Central, located at the back of the main programming room, included two sewing machines, a cutting table, an ironing board and bags of fabric scraps. The final product, a lovely combination of wit and inspiration, raised over $200 in a raffle at the Interfilk Auction. All proceeds went to Interfilk, and the quilt went home to Chicago with Jan Dimasi.
The generous experimental labor of love has continued unbroken over the years. We've already got the 2008 started with a block created by Debbie Ridpath Ohi that shows the artist's caricature of Dandelion Wine's Dave Clement and Tom Jeffers.
You may join in this year's stitching madness. It's not hard! Many of the cutest blocks are made by little children, and others are created by folks who had never before sewn a stitch in their lives. As always, Margaret and Brenda will be on hand to assist beginners.
Either complete a quilt block at the convention, OR send us your finished quilt block for pre-assembly. Margaret's even created some handy dandy, pre-assembled InterFilk Quilt Block Kits. $1.75 (at cost, no profit) Margaret is even willing to refund 25¢ if you return the needle and bobbin of thread. Such a deal!
Details and pictures
Click here to view the finished quilts from past years, quilt block instructions, and mailing details lovingly supplied by Margaret Middleton, the GAFilk Quilt Maven.
Interfilk Auctions
The Interfilk Auctions are now a regular programming event at most filk conventions. These auctions help fandom clean out their attics/acquire lots of neat stuff while at the same time generating the funding to fly Interfilk guests from all over the world. Over the years, attendees at GAFilk have raised over $14,000 for Interfilk. GAFilk would not be enjoying the music of Interfilk guests were it not for this generous organization. Donations for the auction need to be on the tables in the back of the filk room by noon on Saturday to be cataloged. Any items that come later will be sent onto the next filk con.